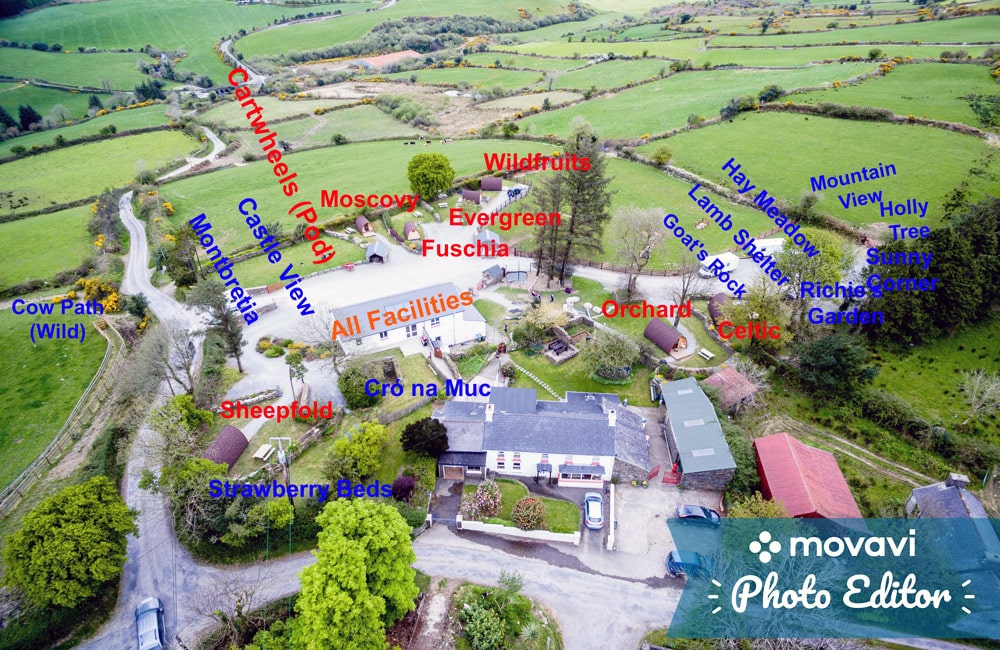 Located within 70m of the main building, our tent spaces have access to the games room , laundry facilities, reception area with free WiFi, showers and toilet block,(showers are €1 per five mins) Apart from wash-up, use of our kitchens is reserved for those staying in the pods. We allow the use of charcoal fires. Car parking adjacent. Each pod has a 6amp electric point.
We have 8 tent spaces and 3 Campervan spaces as follows:
---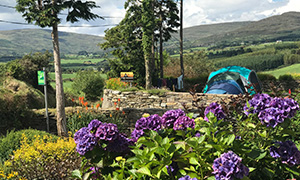 MONTBRETIA
Family tent space
Just inside the main gates, this pitch has 6amp electric hook up.
---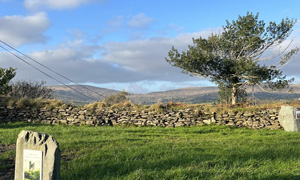 CASTLE VIEW
Family tent space
Centrally situated on the main lawn
---

SUNNY CORNER
Family tent space
A new 25x25ft pitch with a red gate entrance and parking alongside for two cars. A cold water washing up sink serves this pitch and others. (Picture was taken before the grass was sown)
---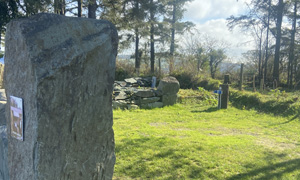 RICHIE'S GARDEN
Family tent space
A 15x15ft suitable for a bell tent or medium size tent at the upper end of the PodPàirc near the old vegetable garden that belonged to Richie O Brien.
---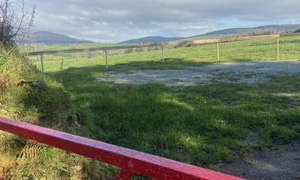 MOUNTAIN VIEW
Family tent pitch
A large family pitch at the upper end of the site, with electric and parking.
---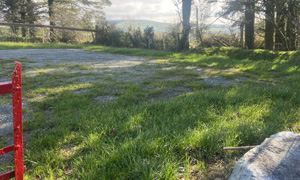 HOLLY TREE
Family tent pitch
A large family pitch near the Holly tree, with electric and parking.
---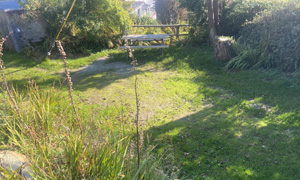 STRAWBERRY BEDS
Family tent pitch
Strawberries still grow on the stone fence here. A private pitch with a nice view and electricity.
---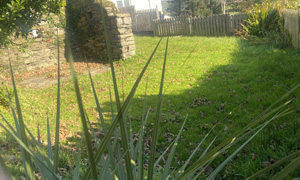 CRÓ NA MUC
Tent pitch for two
This old pigsty (Irish: cró na muc) firms a perfect backdrop for this secluded pitch behind our main building.
---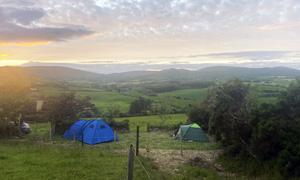 COW PATH
Family tent pitch
Situated 100m outside the campsite this family tent pitch has complete privacy, a lovely view, a parking space and access to our main building facilities
---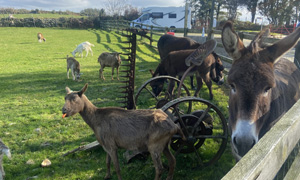 HAY MEADOW
Campervan Space
The old hay making equipment still remains in the meadow near this large pitch suitable for a motor home or trailer tent. Electric hook up (6amp)
---

LAMB'S SHELTER
Campervan Space
Our lambs find a nice place to shelter near this Campervan/ trailer tent pitch. Electric hook up (6amp)
---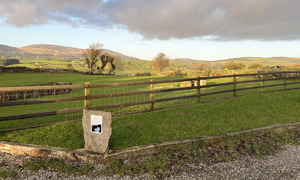 GOATS ROCK
Campervan Space
This medium sized campervan pitch or small tent pitch has an interesting view of the goat acrobatics. Electric hook up (6amp)
---
Generally we have a communal campfire on the go each evening, weather permitting.
Prices vary, but large family tents generally incur a nightly charge of €25-35 depending on size of family. Smaller tents/couples: €22-29 in high season.
Our policy regarding pets
1. Pets are allowed only under certain circumstances.
2. , due to sheep and lambs on site, and also due to children on site.
3. Dogs must be kept on a lead .
4. Owners are responsible for cleaning up if their dogs mess up the gravel or grass areas.