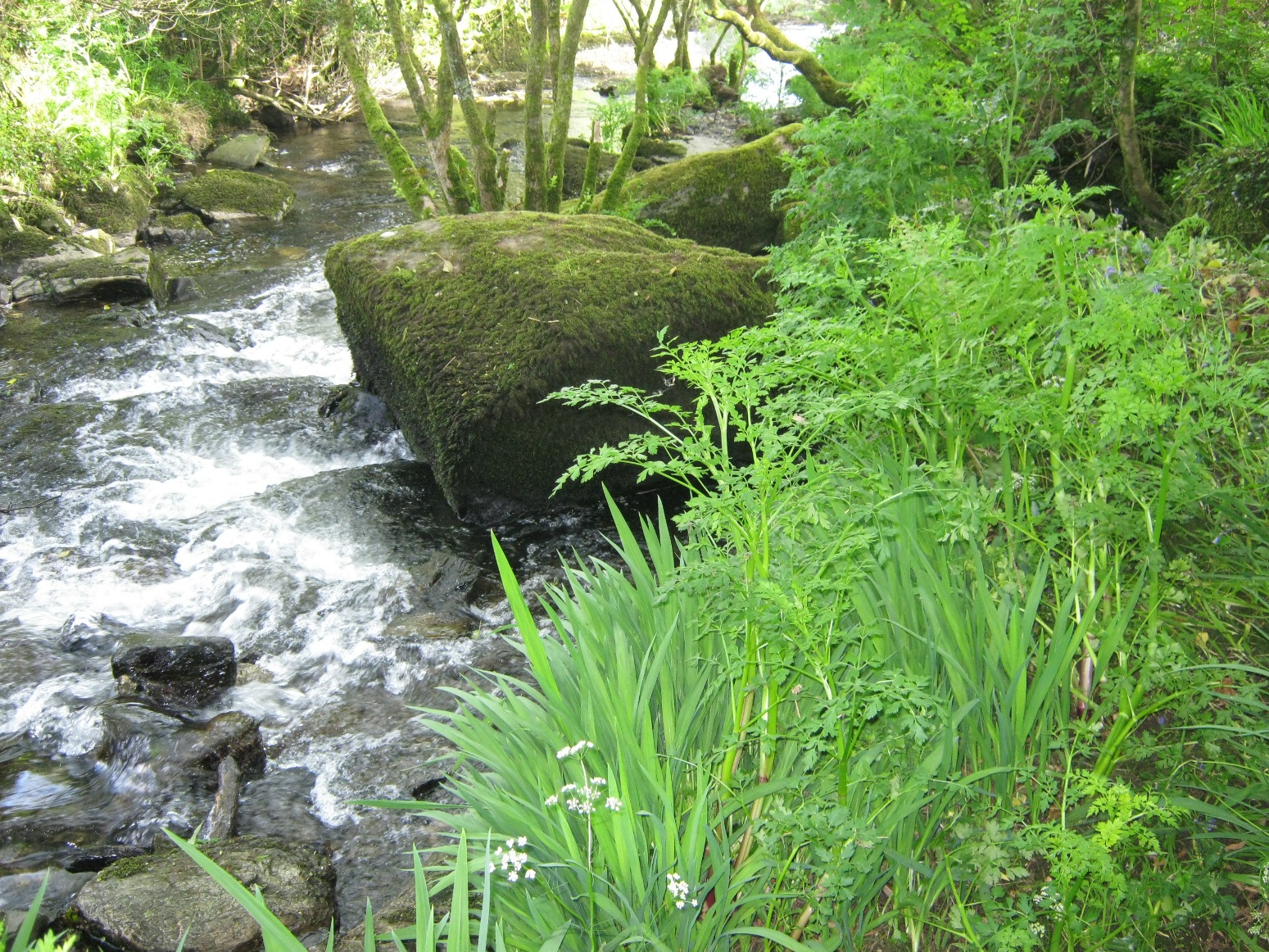 The words "sustainable" and "organic" in relation to farming were not even coined when Sam and Kate Ross farmed here, but that is exactly how they farmed. They grew potatoes, root crops, oats, and all kinds of vegetables and fruit for sale in the village. They also made butter and produced their own bacon on the farm.  They were truly self-sufficient, and nothing went to waste.
Today at the Top of the Rock we produce our own beef and lamb, and we grow onions, parsley and rhubarb, as well as apples and raspberries.  In fact, if you enjoy a meal here you will find that most of the food is produced within a mile of here by our extended family…Peter and Rosalind Ross grow a whole range of fresh vegetables and strawberries; while Alan and Valerie produce an award winning  gamut of artisan dairy products on nearby Glenilen Farm.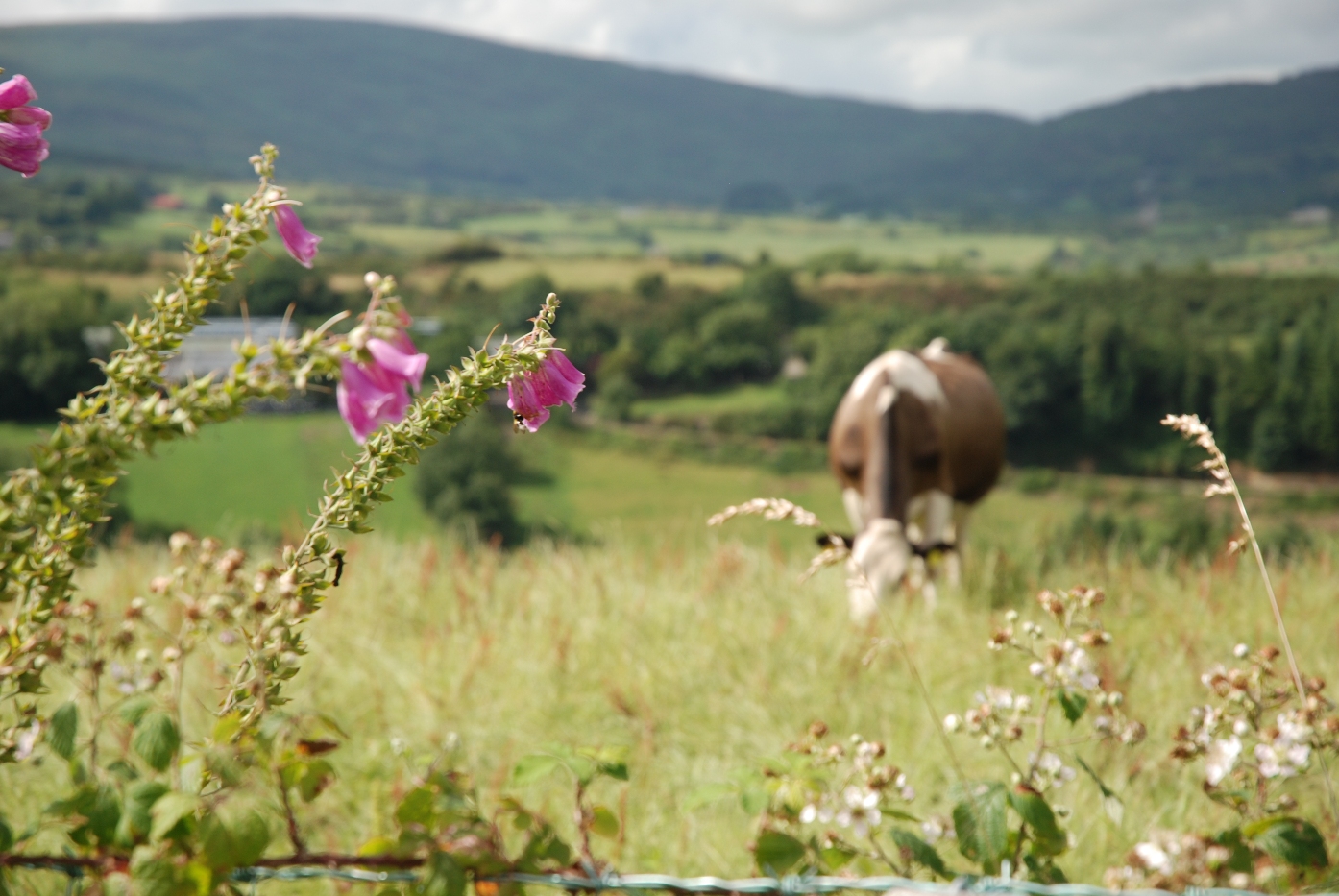 Our farm operates under the GLAS 2 environmental scheme and has done so since 1994.  Flocks of finches come each November to harvest the specially sown bird cover area. Pheasants are raised in a special nursery area. A bird hide is located near the river corridor where some herons are nesting. Foxes, hares, badgers and rabbits are found throughout the farm while a riparian zone protects flora and fauna on the river bank, including otters. A duck pond was created in 2013. A tree planting programme has been in place since 1986. Each year further trees are planted under the "One million trees in a Day" initiative.
Our farm regularly achieves a high ranking in the Bord Bia Quality Beef Assurance Scheme, which ensures a high standard of animal husbandry and food traceability. We take part in the Beef Genomics Scheme which aims to improve the national herd through better breeding. We regularly host Teagasc Farm Walks for training and discussion about best practice in environmental protection and agri-tourism.
Use of our own materials: During construction of the Pod Páirc we used timber and stone from our farm to build ranch fencing and stone ditches.  We employed local builders throughout and made every effort to source all our materials and goods within West Cork.
Use of local services:  Priority is always given to employing local people and to buying locally, in the village where possible. Drimoleague has a thriving supermarket, bakery, pharmacy, petrol station, butcher, fish and chip shop, Chinese restaurant and two public houses, as well as a post office. We encourage our guests to join us in supporting these local community businesses. Each of our three churches welcome visitors to their services.
Maximising public transport: Drimoleague is on the main bus route from Cork to Glengarriff. There are five bus services each day. Because we are so close to Drimoleague we encourage people to arrive by public transport and avoid the use of a car while here.  Walking is a priority and bicycles can be hired. If you choose to walk the 18km Sheep's Head way to Bantry you can get the bus back to Drimoleague in the evening.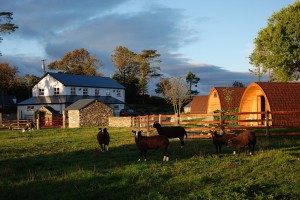 Reduce, Re-use and Re-cycle: We have four categories for refuse in the Pod Páirc: Food waste, Glass, Recyclable and General. Our aim is to consistently reduce the latter. Our waste water treatment plant quietly works away under the Pod Páirc field and the outlet produces clear pure water which finally reaches the Ilen River at the lower edge of our farm. We aim to use electricity sparingly and minimise the use of lights when not needed.  A camp fire is lit most  evenings in the summer with timber from the farm in plentiful supply.
Water and Solar: The well which our parents dug in 1966 still provides us with enough fresh pure water to run the Pod Páirc and farm.  People comment on its good drinking qualities. We also have installed a rainwater-harvesting system which takes the water from the roof and supplies the toilets for most of the year. It also keeps the duck pond supplied with fresh water.  Solar panels on the roof  supply most of the hot water in summer months. In spring and autumn it has a little help from our oil burning system.
Local folklore, culture and heritage. We specialise in introducing you to the folklore and heritage of this community. We have authored the Drimoleague Heritage Walkways booklet and we have produced ten radio programmes on the heritage of each walk . These can be downloaded to your device so that you can listen to a commentary as you walk. Traditional Irish music and dancing are part of our community tradition in Drimoleague.