A large sign on the approach to Drimoleague describes the village as being 'the Heart of West Cork' and the distinctiveness that causes West Cork to be known as 'a place apart' can be found here in full blossom.
Here at West Cork's heart you'll find rich folklore, warm friendliness, down-to-earth faith, lively cultural expressions and a varied and interesting history going back to St Finbarr of the 6th century and beyond. The landscape is of great beauty. Walk the West Cork mountains, travel through undulating farmland and woodland, and look out for signs of our unique flora and fauna along our pristine riverbanks.
Drimoleague is located on the R586, about 60km west of Cork city, and almost equidistant by 12km each, from the busy market towns of Bantry, Skibbereen and Dunmanway. It is to be found in the River Ilen basin, and its main street stretches out alongside one of its fast flowing tributaries, the Ruagach. Its location formed the natural junction for the Bantry and Skibbereen branches of the West Cork Railway, whose arrival here in 1880 transformed a scattered hamlet into a thriving village. The village itself has undergone a huge face-lift in recent years. It is a strong community, proud of its past and welcoming to newcomers.
Rich History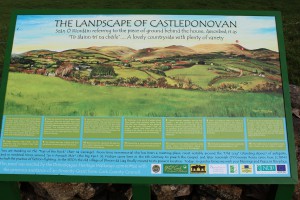 All around the village are reminders of its heritage: Beamish's corn mills; three distinctive churches; and an old railway station which is preserved almost intact since the sad demise of the rail system in 1961. Each house in the village bears its own legend of unforgotten characters and well-rehearsed folklore. Beyond the village to the north is Barr naCarraige the old village of Drimoleague, rich in history and verse. Further north is the ancient stronghold of Castledonovan, which is presently undergoing preservation works. The archaeological map of the parish is dotted with standing stones, ring-forts, fulachtaí fia, and holy wells.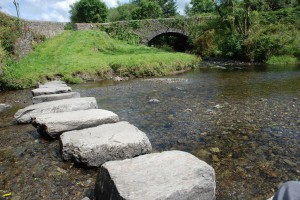 The village has much to offer the visitor. Besides our Pod Páirc and Walking Centre, there are a few guest houses, bars, a restaurant, a take-away and an excellent Centra convenience store. There is a Post Office and an excellent pharmacy. The local charity "Curiosity" shop drew the attention of John G O Dwyer in his book "Pilgrim Paths of Ireland". The large GAA pitch, and the splendid pitch-and-putt course are both well kept by local committees. There are basketball and tennis courts, and the children's playground is modern and well-maintained. For the fisherman there at least four well-stocked fishing lakes within six miles of the village.
When you get to know Drimoleague, you will realise it is a microcosm of all that is good about a West Cork village … a vibrant and caring community set in a delightful countryside location, yet very accessible to main routes and public transport.
"Céad Míle Failte"….You are a thousand times welcome here!